The World Fights COVID-19 with 3D Printing
The global response to COVID-19 is unprecedented. The entire world is battling a virus in the midst of quarantine and economic disruption and many of us have been left wondering, "how can we help?". For those in the additive manufacturing industry, the answer was clear – mobilize our design and manufacturing capabilities to combat the threat at record speed. People and organizations around the globe are banding together to find unique ways to leverage 3D printing to fill gaps left by other technologies. From bioprinting to distributed production, 3D printing is playing a critical role in the global response.
One of the most stunning characteristics of the novel coronavirus has been the rate at which the virus has spread across the globe. This has created tremendous pressure on supply chains that are struggling to keep up with the sudden spike in demand. 3D printed face shields and respirators have been some of the most popular printed parts donated to hospitals and medical workers. In other parts of the world, the supply chain may be completely shut off as borders continue to close and travel is restricted. In those regions, 3D printing is providing a critical lifeline allowing customized replacement parts to be produced at a moment's notice. We've already seen stories of 3D printed airflow valves and filter cartridges designed, produced, and installed when there was no stock insight. 3D printing is allowing these groups to move quickly and save lives around the world.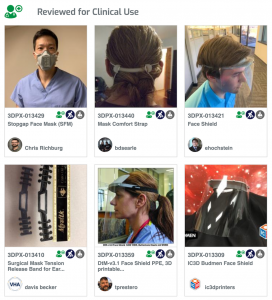 In the midst of this remarkable work, there's also a need for regulation to ensure the safety and consistency of the printed equipment. In the United States, 'America Makes' has created a repository of approved models in partnership with the National Institute of Health (NIH), the Department of Veterans Affairs (VA), and the Food and Drug Administration (FDA). The models that are submitted to this repository are reviewed by experts and given an approval designation on the website.  Anyone can submit a model and the database is rapidly growing. In the EU, CECIMO, the European association for Additive Manufacturing, is working to free up companies that are capable of 3D printing medical devices from regulatory and patent concerns that might hamper their ability to deliver parts quickly. It is remarkable to observe the collaboration and the pace that life-saving prints can be developed in a time of crisis.
We are proud to work in an industry that is making a difference in the fight, and we know the world will get through this together. During this time of crisis, our support staff continues to be available to help you print quickly and efficiently. Contact Us directly if there is anything we can do to assist you. If you have participated in 3D printing efforts to support health care workers or know of other ways that additive manufacturing is being used to combat COVID-19, please let us know about your efforts at stories@simplify3d.com.
---